Due to a sporadic upsurge of Coronavirus infections in Uganda, the authorities in the Ministry of Health and other government relevant bodies have urged Ugandans especially those in urban centers intending to travel to upcountry for Christmas holiday to stay in their homes.
Government says, the advisory is intended to curb regional transmission of the virus since urban centers particularly Kampala has turned into the epicenter of COVID.
Health experts say that because of the emerging community infections, it will be hard to detect who has the virus therefore, to save the old ones in villages (who are vulnerable to the virus), people ought to stay in their homes in Kampala and other neighboring towns.
However, Christmas comes with huge excitement since many know it as the only time of the year when one must rest, shed off fatigue, stress, have time for his/her family, congregate with friends and reminisce on old days while undertaking plans for the new year.
Don't travel to villages, travel to Munyonyo
And because it is this is the longest holiday one can have, Speke Resort Munyonyo has already laid a comprehensive program of 12days for its clients.
The 5-star hotel ready to treat the visitors with the perfect services as they create memories together and forget missing their loved ones who are upcountry.
Speke Resort Munyonyo already issued an itinerary of the '12 days of Christmas at the Resort" displaying friendly prices for all the serviced which will be rendered at the Hotel- ranging from food, accommodation and entertainment
But why Munyonyo?
Because, Ugandans are living in suspicious and delicate times thanks to Coronavirus, Dr Sudhir Ruparelia, the founder of the Speke Group of Hotels has adhered to health Standard Operating Procedures (SOPs) issued by government.
Interesting Sudhir has installed sanitizing booths on premises of his hotels including Speke Resort Munyonyo.
Using this technology advancement one is assured that the virus hanging on bodies/clothes is killed in the booth, as visitors walk through them.
So visitors don't have to worry about sanitizing. Beside booths, other particular areas in the resort have sanitizers, water and soaps available.
Here are more reasons why you should spend your Christmas with the Ruparelia group hotels;
Discounted Accommodation Packages
Munyonyo Commonwealth Resort and the adjacent Speke Resort and Conference Centre are the flagship hotel brands of the Speke Group of Hotels.
The two hotels are throwing a variety of discounts this festive season to make sure you enjoy, without breaking a bank or two.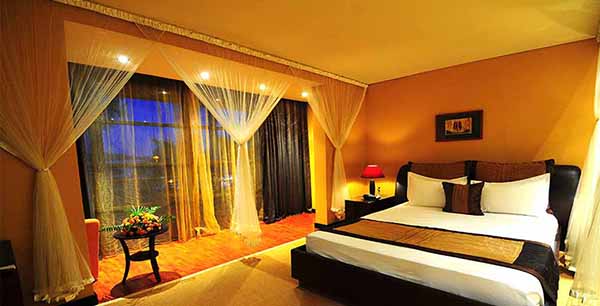 From 11th December to 23rd December and from 26th December to 10th January, their single deluxe rooms will be charged at $139 and the double deluxe will be at $188. The one bedroom suite that takes up to 2 people will be at $225, the superior room and the executive room will be each at $250. The executive suite will be charged at $436. The presidential cottage and presidential suites which take up 4 people each will be charged at $498 and $684 respectively.
However, on Christmas eve and Christmas day, the rooms will have slithly higher. The single deluxe room will be charge at $176, The double deluxe will be charged at $262, the one bedroom suite will be charged at $299. Both the superior room and the executive room will be charged at $324. The executive room, executive suite, presidential cottage and presidential suite will be charged at $324, $510, $647, $832 respectively.
All rates are full board- breakfast, lunch and dinner. On 25th December there will be a Grand Christmas Buffet by the Olympic swimming pool. They are also inclusive of a 30 minutes boat ride and a 10 minutes pony ride for children. On top of all that, the guests will also have access to the swimming pool, gym, spa and sauna.
Many choices
Speke Group of hotels, has a variety of luxurious and budget options to pick from- hotels and self-catering apartments. The include: Speke Resort and Conference Centre (www.spekehotel.com), Munyonyo Commonwealth Resort (https://www.munyonyocommonwealth.com),
If it is a lakeside room that you want, Speke Resort Munyonyo has you covered with rooms over looking the calm waters of Lake Victoria.
Christmas and New Year's day events
Christmas comes with a lot of excitement and the mention of food cannot be excluded from it all. Normally, women in the house have to get into the kitchen and cook large feasts to feed their family but as opposed to doing that, you can visit any of the Speke Resort and enjoy the different kinds of buffets they have planned for this Christmas.
On Christmas day, Speke Resort Munyonyo will serve a lunch buffet at the Speke Resort Poolside. Each adult will be charged Ugx 175,000 and children under 14 will be charged Ugx 75,000.
It will be a 3 course menu that will consist of starters made of salads, cold cuts, dips, soups and bread. The main dishes will have turkey, chicken, beef, pasta, naan bread, hot buffet and so much more. The desserts will comprise of different cakes, fruits, mousse, and so much more.
Variety of activities for kids
Don't let all the Xmas eating scare you- you can break down all the food in the variety of swimming pools, gyms and health clubs- in nearly each of the facilities.