Uganda's long distance runner Jacob Kiplimo has booked his Tokyo Olympic ticket for the 5000m.  Yesterday on Tuesday, June 29, Kiplimo won the Spitzen Leichtathletik meeting in Luzern, Switzerland.
The youngster posted 12:55:60, a time which was enough for him to qualify for the 5000m race at this year's Tokyo Olympics slated to start on July 23.
The 20-year-old also now joins fellow countrymen Joshua Cheptegei and Oscar Chelimo who already qualified for the men's 5000m at the Tokyo global games.
In May this year, the World half marathon champion qualified for the 10000m after winning the race in the seventh fastest time of 26:33.93 at the Ostrava Golden Spike meeting in Czech Republic.
At the same event meeting in Ostrava the 20 year old Ugandan won the 5000m race in second fastest time ever by a Ugandan of 12:48.63.
Cheptegei and Kiplimo will now compete each other at both the 5000m and 100000m at the Olympics.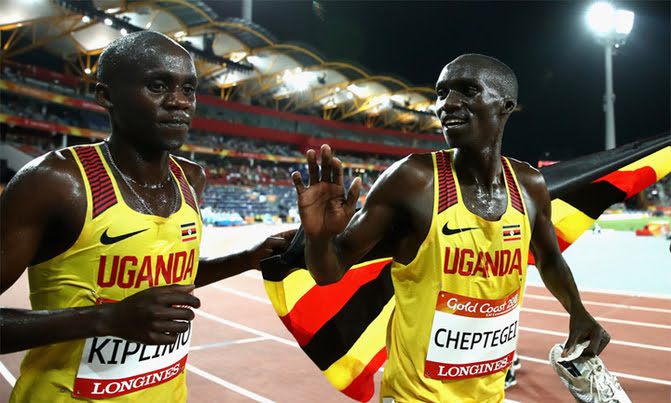 At age 16, Jacob Kiplimo produced a performance of a lifetime to win gold in the men's U20 race at the 2017 IAAF World Cross Country Championships in Kampala, the country's first ever gold medal at a World Cross, covering the 8 km course in 22:40 minutes.
Kiplimo won the San Silvestre 10k in a time of 26:41 on 31 Dec 2018. His win set a new course record, formerly set by Eliud Kipchoge in 2006 with 26:54.
At the Ugandan Cross Country Championships on 16 Feb 2019 in Tororo, Kiplimo defeated Joshua Cheptegei by both placing first and second respectively. In the men's senior race over 10 km, Kiplimo won by an 11-second lead over the 10,000 m world championship runner up.
At the 2019 IAAF World Cross Country Championships in Aarhus, Denmark, Kiplimo finished second in the senior men's race 4 seconds after Joshua Cheptegei's winning time of 31:40. He won the gold medal in the teams ranking with Cheptegei from Uganda.